NOTE: Due to a software update, all waiting lists are currently closed and expected to reopen on June 20, 2023.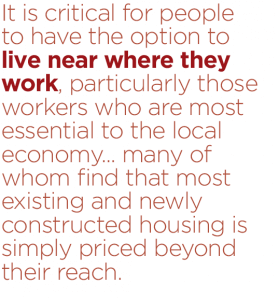 The Housing Authority's innovative Workforce Housing Program is designed to address the affordable housing needs of our community's low to moderate income workforce who are increasingly caught in the gap between skyrocketing rents and ineligibility for other assistance.
The Housing Authority is committed to providing affordable housing to make it possible for more people to live where they work, in Santa Barbara. This approach benefits people who can keep transporation and other costs to a minimum, and have more time to spend with family, education, or career development. And benefits us all by minimizing the impact of commuting on our environment and quality of life in Santa Barbara.
In many ways, the Housing Authority serves our workforce throughout all of its properties. The majority of our non-senior residents are working families – participating and contributing to our workforce, our economy and our community.
Workforce Housing Details
The Workforce Housing Program was created for individuals who are gainfully employed in the south coast of Santa Barbara.
All units are located within the City of Santa Barbara.
Unit sizes range from studio to 2-bedroom.
Priority is given to residents of Santa Barbara and U.S. Veterans.
Workforce Housing Types
The Housing Authority owns and manages approximately 250 workforce units, divided into three types based on income and eligibility restrictions:
Restricted Boundary/Downtown Workforce
Essential Workforce
Middle Income/Open Market Workforce
Restricted Boundary/Downtown Workforce
Units only available to persons employed within specified boundaries in Santa Barbara (see boundary map here)
Fixed monthly rents – No subsidy
Studio and one-bedroom units
Preference given to applicants who do not own, lease or regularly use a vehicle
Rent amounts vary depending on the property/unit offered and household income
No waiting list – all new vacancies are advertised locally (Craigslist, etc.)
| Household Size | Minimum Income | Maximum Income |
| --- | --- | --- |
| 1 | $25,000 | $70,050 (80% AMI) |
| 2 | $25,000 | $86,496 (120% AMI) |
Essential Workforce
No employment location restrictions
Fixed monthly rents – No subsidy
Studio, one-bedroom and two-bedroom units
Rent amounts vary depending on the property/unit offered and household income
No waiting list – all new vacancies are advertised locally (Craigslist, etc.)
Household Size
Minimum Income
Maximum Income
80% AMI
Maximum Income
120% AMI
1
$35,000
$70,050
$122,920
2
$40,000
$80,050
$140,480
3
$45,000
$90,050
$158,040
4
$50,000
$100,050
$175,600
5
$55,000
$108,100
$189,648
Middle-Income/Open Market Workforce
Units target those employed with incomes up to 160% AMI
No waitlist maintained – new vacancies are advertised until filled
| Household Size | Minimum Income | Maximum Income (160% AMI) |
| --- | --- | --- |
| 1 | $30,000 | $140,000 |
| 2 | $35,000 | $160,000 |
| 3 | $40,000 | $180,000 |
| 4 | $45,000 | $199,840 |
| 5 | $50,000 | $215,840 |
A tour of the Housing Authority's Workforce Housing developments: