Supportive Services Program
The Housing Authority recognizes that our work is about more than building quality affordable housing; it is also about providing our clients with the opportunity to access needed health and social services in order to stabilize and improve the quality of their lives.
 "The Supportive Services Program improves the quality of life of our clients, with an emphasis on promoting their dignity, well-being and self-sufficiency."
Our Supportive Services Program includes comprehensive case management services by professional staff aimed at assisting Housing Authority clients in maintaining successful tenancies.
Access to supportive services is free, confidential and voluntary.
Program Features
Case Management (short term)

Referral to Confidential Counseling Services

Referral Assistance 
Senior Services
Transitional Assistance
Eviction Prevention
For more information, please contact one of our case managers:
Kendre Sanborn
Behavioral Health Specialist
805-897-1048

Lupita Delgadillo
Senior Advocate/Case Manager
805-897-1089
Jessica Ruiz
Family Advocate/Case Manager
805-897-1050
Supportive Services Brochure – English
Supportive Services Brochure – Spanish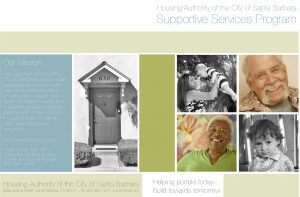 Health Access and Care Coordination Project
The Health Access and Care Coordination (HACC) Project is an innovative multi-agency, multi-disciplinary collaborative focused on expanding access and improving coordination across the continuum of care to ensure equitable healthcare for newly eligible Medi-Cal members residing in affordable housing.

The goal of the Health Access and Care Coordination Project is to connect MediCal expansion members with primary care and behavioral health providers.
The core values of equity, respect, compassion and collaboration guide the actions of HACC partners as we work together to improve access to health services for vulnerable members of our community.
The HACC collaborative will help facilitate the following for MediCal expansion members, ages 19-65:
Increase access to mental health and immediate care services through the development of a multi-agency, multi-disciplinary team;
Provide health education and wellness programs;
Enhance care coordination across primary and behavioral healthcare delivery systems by assisting in health care navigation, linkages to formal services, arranging appointments, transportation to appointments, follow-up calls, and other disease management activities;

Provide home visits and "pop-up" clinics for physical and mental health assessments, and preliminary treatment;
Educate participants on how to avoid readmission to the hospital for basic healthcare needs; and
Connect participants with area health care providers in order to help them establish lasting relationships.
For more information about the Health Access and Care Coordination Project, please contact:
Sebastian Irani
Health Services Coordinator
Tel: (805) 897-1054
E-mail: sirani@hacsb.org