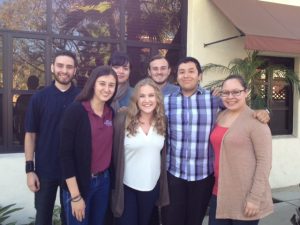 The Intern Training Program is designed to give Housing Authority program participants, low-income residents, students within the Santa Barbara community the opportunity to gain skills and experience. In addition to meeting our need for temporary assistance, the program works to provide participants with on-the-job training and valuable workplace experience.
Interns assist with the coordination of various programs benefiting youth, families and seniors. Interns also assist with clerical work and light-industrial tasks. Interns work alongside Housing Authority staff and are encouraged to share new ideas and help design and implement programs. Internships are paid and generally last one year, but the timeframe may vary based upon Housing Authority needs, funding availability and participant performance.
The Intern Training program is administered by an outside staffing agency. Interns are employed through and must successfully complete the outside staffing agency's hiring and selection process. Prior to final selection and subsequent participation, applicants will be subject to a criminal background check appropriate to the tasks, functions and business necessity. Criminal convictions will not automatically disqualify a candidate for an internship. The nature of the crime, time since the offense, surrounding circumstances and relevance of offense to position applied will be considered. Individuals must be at least 18 years of age to be eligible for an internship. For internships that entail driving, individuals must be at least 21 years of age and have a valid California Driver's License, and DMV record in good standing that meets the Housing Authority and staffing agency's insurability requirements and standards.
To apply, download application packet here: Intern Training Program Application
For more information, contact Janice Rodriguez at jrodriguez@hacsb.org