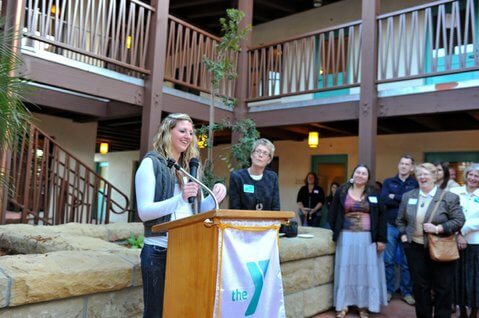 Nick St. Oegger
Annie at My Home
---
Community Celebrates "My Home" Opening
Fourteen Former Foster Care Kids Get Studios and Moral Support
---
Friday, April 8, 2011
Annie didn't mean to make the crowd at Artisan Court tear-up Thursday night. She simply planned to read her prepared statement thanking city officials and chartable organizations for making the "My Home" project possible and then return to the work of being a teen on the verge of adulthood.
But in the course of reading her speech, the reality of her life, and history, asserted itself.
"Okay, I'm really, really nervous," said the all-American-looking teen with crimped hair and baby-blue eye shadow. Standing at the podium in a courtyard of this brand new city Housing Authority complex, surrounded by Mayor Helene Schneider and other community bigwigs, she continued:
"I've been in foster care since I was 3 years old, had a very hard life, and didn't know where I was going to be when I turned 18." And that's when the tears began to flow and we were all just standing there, feeling for her. To read more, seehomelessinsb.org.