Housing Authority Breaks Ground on Artisan Court Development
The affordable housing project is designed to serve special-needs populations in Santa Barbara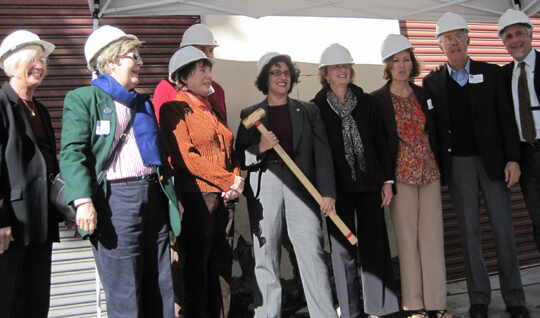 Former Santa Barbara Mayor Marty Blum, left to right, Cheryl Rogers, Catherine Woodford, Stanley Eisele, Santa Barbara Mayor Helene Schneider, Barbara Allen, Mary Johnston-de Leon, David Hughes and Housing Authority CEO Rob Pearson help with Wednesday's groundbreaking for the Artisan Court affordable housing development on East Cota Street. (SurfMedia Communications courtesy photo)
By Candice Tang| Published on 01.12.2010
The Housing Authority of the City of Santa Barbara broke ground Wednesday on Artisan Court, at 420 E. Cota St., its newest affordable housing project designed to serve special-needs populations in Santa Barbara.
The 55-unit studio apartment development will provide housing for three target groups: youth aging out of foster care, the formerly homeless and low-income downtown workers. It will include special features such as space for on-site supportive services and a community garden.
Artisan Court also will feature a variety of social and private spaces within its unique three-courtyard layout. A large program room will be available for supportive services such as group counseling, life-skill coaching classes and other programs. Each unit will include living/sleeping space, a full kitchen with breakfast bar and a full bath configured in just 450 square feet. The small size is designed to best serve the target populations, many of whom could not or would not want to manage living in a larger space.
Residents will be provided with utilities and high-speed Internet service free of charge. In addition to the 55 studio apartments, a two-bedroom manager's unit will be included on the site.
"We are grateful to our community for the incredible encouragement we are receiving as we introduce new approaches to bridge the acute housing gaps here in Santa Barbara," said Rob Pearson, executive director and CEO of the HACSB. "We are especially pleased with the development of Artisan Court to be providing a safe and secure home for young people in our community who are at such high-risk as they transition to adulthood out of the foster youth system."
Thirty to 40 youths age out of foster care in Santa Barbara each year, and the county has had funding for 10 transitional placements for foster youths. Nationally, 18 percent to 22 percent of youths who age out of foster care experience homelessness within three years. The Grand Jury report issued in Santa Barbara in 2007 found that in that year, 32 percent of the youth emancipating (12 of 38) were homeless within six months.
The Housing Authority will partner with the YMCA Youth and Family Services and PathPoint to deliver essential supportive services such as life-skills coaching and counseling.
The name "Artisan Court" is in homage to the creative, hands-on spirit of artisans, a spirit the Housing Authority believes to be integral to the people who will be living there — rebuilding their lives as a creative act. The design of the project reflects this artisan sensibility using playful, artistic detailing, while creating a sense of home and community within the intimate courtyard layout. The project also was designed with careful thought given to maintaining costs of construction and includes many environmentally and energy conscious features, including photovoltaic technologies for electricity and heat.
Key funders of the project are the HACSB, the city of Santa Barbara, the city's Redevelopment Agency and Red Stone Equity Partners LLC. J.P. Morgan Chase is the construction lender.
Construction is expected to be completed in January 2011. Architects for the project are Christine Pierron and Mark Wienke of CP +MW:jv, a joint venture architectural studio, and McGillivray Construction is the project's contractor. The site was formerly occupied by Haagen Printing.
— Candice Tang is a publicist.