Johnson Court – Under Construction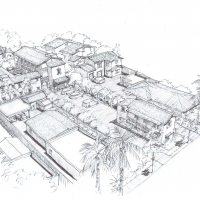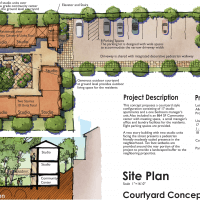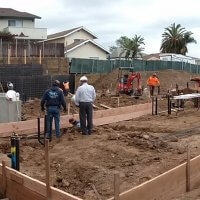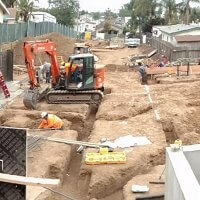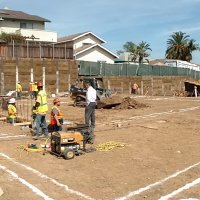 813 East Carrillo Street, Santa Barbara, CA
| | |
| --- | --- |
| Land Owner | Housing Authority of the City of Santa Barbara |
| Developer | Housing Authority of the City of Santa Barbara |
| Architect | RRM Design Group |
| Contractor | McCarthy Companies |
| Site Area | .34 acres (15,000 sf) |
| Zoning | Multiple-Family Residence (R-3)/Average Unit-Size Density |
| Population Served | Low-income Veterans |
| Parking Provided | 7 Spaces |
Johnson Court will be an affordable housing development that will serve the homeless veteran population in Santa Barbara. The proposed project provides 17 studio units for very low and low-income veterans, a one-bedroom manager unit, and common area and office space to accommodate the provision of services and activities on-site.
The veteran target population is in keeping with the wishes of the former property owners, the Johnson family, whose father had served in the military. The Housing Authority of the City of Santa Barbara (HACSB) purchased the property and in keeping with the family's wishes, will provide housing for veterans at the aptly named "Johnson Court".
The need for affordable veteran housing is growing significantly nationwide. The Central Coast Collaborative Vulnerability Index database shows that there are 210 homeless veterans on our streets- with an average age of 52.9 years, and the oldest veteran reported to be 84 years old. The proposed housing will meet the needs of veterans with special needs, disabilities, who are seniors, and any combination of these realities veterans experience.
Parking Modification
This site is ideally located for a reduced parking project. There is a bicycle lane two blocks south of the project on Canon Perdido Street that connects to downtown, as well as one on Salsipuedes Street. There are a few grocery stores within a 10-minute walk including: Victoria, Chapala, and Mi Fiesta markets. Eastside Neighborhood Clinic is less than 2 blocks away. Santa Barbara MTD Route 2 has several bus stops around the project site, the closest being at the intersection of Milpas and Figueroa Streets, on the same block as the project site.  In addition, as demonstrated at El Carrillo, which has a population similar to the population proposed for this project, and other Housing Authority projects, a ratio of 0.41 spaces per unit exceeds the demand for this population. A parking study prepared by Associated Transportation Engineers (ATE) dated March 14, 2016 demonstrates that the peak parking demand is anticipated to be between three to five spaces. This study was included in the previous response to the PRT letter.
Lot Area Modification
As permitted under the AUD ordinance, the site can be developed at a density of 27 units per acre or 9 units for the project site. The average allowable unit size is 905 sf. As the project would exceed the allowed density by 8 units (16 total plus one manager's unit), a modification to the allowable density would be required. However, it should be noted that the 357-sf average unit size is less than half of the allowable average unit size of 905 sf. It is also important to note that the total proposed 6,069 sf of unit floor area is 2,076 sf less than the 8,145 sf total allowable floor area.
Amenities
On-site Management
Common Courtyard (722 sf)
Community Room (589 sf)
Laundry Room
Bike Parking for Each Unit