Santa Barbara's Artisan Court Gives People in Need a Place to Call Home
City officials, supporters and residents celebrate completion of the 56-unit affordable housing project on East Cota Street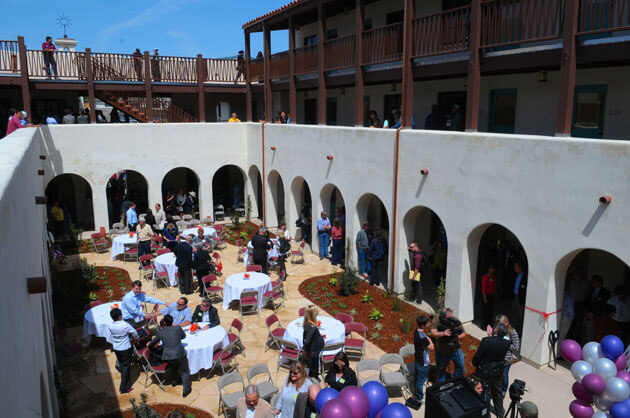 A celebration on Wednesday marked completion of the Artisan Court apartment complex on East Cota Street designed for formerly homeless individuals, youth aging out of foster care and low-income downtown workers. (Lara Cooper / Noozhawk photo)
Santa Barbara officials gathered Wednesday to celebrate with residents in need who now have a new place to call home at Artisan Court, 422 E. Cota St.
The development of the Housing Authority of the City of Santa Barbara has 56 studio apartments that will go to formerly homeless individuals, youth aging out of foster care and low-income downtown workers, as well as an on-site manager.
All of the units have been filled, and most of the residents will be moved in by Friday.
One of those residents, Sonny Bradshaw, expressed his gratitude on Wednesday. He said he struggled with substance abuse until reaching out for help.
"I thank God every day that there were hands to help me," he said. "The city of Santa Barbara is truly one of a kind."
As the residents move in, they'll find that each room has essentials such as furniture, dishes, linens and cleaning supplies. The Housing Authority and the nonprofit Second Story Associateslaunched the Adopt-a-Room campaign, through which more than 80 community members volunteered to outfit the rooms.
"What a start for someone who doesn't have anything to have just what they need," said Rob Fredericks, deputy executive director and chief administrative officer for the Housing Authority of the City of Santa Barbara.
Rent for the project will range from $408 to $817, and the development will provide on-site services such as counseling and coaching in conjunction with YMCA Youth & Family Services and PathPoint.
Total funding for the project was $17.6 million, with the majority coming from investors. The City of Santa Barbara and its Redevelopment Agency contributed, and money from the American Recovery and Reinvestment Act was also used.
Fundraising to build affordable housing took time and effort, said Barbara Allen, Housing Authority chair.
"In the best of times, it's not easy," she said, but added that the development had finally come to fruition.
The project, which had a construction budget of $10 million, also created 124 full-time construction jobs locally, Fredericks said, adding that Artisan Court was the biggest building project in the city last year.
"People do care," he said. "This development is a testament."
Mayor Helene Schneider invited the audience to take in the beauty of the complex.
"Just look around you," she told the audience seated in the courtyard, adding that high-density projects can be beautiful.
Teenagers aging out of the foster care system will have a place to go now, and Artisan Courts provides "doors that don't close, but open," Schneider said.
Eight individuals also will be cycling out of the El Carrillo Apartments on West Carrillo Street into Artisan Court, allowing more of Santa Barbara's chronically homeless to have homes.
Support is still needed to furnish the building's community room with donated computers, as well as financial support for bookcases and furniture. Click here to make a donation or for more information.
— Noozhawk staff writer Lara Cooper can be reached atlcooper@noozhawk.com. Follow Noozhawk on Twitter: @noozhawk or@NoozhawkNews.