Santa Barbara Homeless Forum Digs Deep to Identify Its Root Causes, Solutions
Addiction, emotional struggles, competing services and lack of funds take a toll but groups resolve to help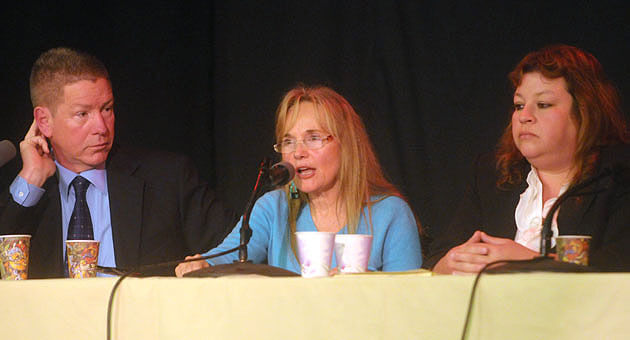 From left, Santa Barbara City Councilman Dale Francisco, Families ACT! executive director Suzanne Riordan and Deputy Public Defender Deedrea Edgar discussed causes and solutions of homelessness at a forum sponsored by Survival Santa Barbara. (Lara Cooper / Noozhawk photo)
Just one day after hundreds of volunteers finished canvassing the streets withCommon Ground Santa Barbara, the discussion continued Thursday about how best to help the South Coast's homeless population.
About 100 people gathered in the parish hall of the Unitarian Society of Santa Barbara to hear a panel of experts on homelessness give their thoughts on the problem as well as the solutions. The event was sponsored by Survival Santa Barbara, a series of events focused on keeping area warming centers open for the homeless. Former Assemblywoman Hannah-Beth Jackson, D-Santa Barbara, moderated the discussion.
"For some reason in the conversation, today the word moral doesn't come up much," Jackson said. "It's always 'fiscal'."
Jackson recounted a conversation she had with Santa Barbara Mayor Helene Schneider, who said that each night in the county, more than 1,000 children have no place to go.
"This is a stunning situation," she said.
David Hopkins, a formerly homeless man, was on the panel. He went through the Santa Barbara Rescue Mission'sprogram and is about graduate as a certified drug and alcohol counselor from SBCC.
"I didn't choose to be homeless," he said.
Hopkins said many people on the streets have emotional baggage, as he did. He said he was sexually abused as a child, and "I would say about 80 percent of the girls I met while I was homeless had been sexually abused."
"All my friends are dead who were out there," he said.
Hopkins called on county, city and nonprofit agencies to work together in a more cohesive way.
"There are so many little groups that nothing gets done," he said.
Jennifer Ferraez, a homeless outreach worker for the Santa Barbara County Alcohol, Drugs and Mental Health Services Department, said that housed people often have the same addiction problems and emotional struggles that the homeless do.
"So much is exposed when walls are taken away," she said.
Ferraez agreed with Hawkins that the system is fragmented and that often people give up trying to find the resources they need to heal. Restorative policing has been effective in the area, and Ferraez said she'd like to see that increase.
The homeless are often arrested for offenses like sleeping in public and for open-container violations, and Deputy Public Defender Deedrea Edgar says she sees them every day. Edgar and those in her office are appointed to represent those who can't afford an attorney. The establishment of a homeless court is under way, she said, which would help with the problem.
Currently, people with mental illness who can't care for themselves can be placed under the conservatorship of the county, Edgar said. She added that she has about 110 open cases of people who have been conserved as a result of mental illness. Legally, people can also be conserved for alcoholism, but the county has no facilities for those people, even if they do want recovery.
"When we closed the mental hospitals in the 1970s, we didn't have any idea what that would mean," said Suzanne Riordan, panelist and founder of Families ACT!Now, people with mental illness often end up in jail, where things can turn violent.
"I don't think this is an improvement," she said. "It's in our interest to come up with a plan."
Dr. David Lennon of the county Public Health Department talked about the homeless death report issued last summer. The report showed that nearly 90 percent of the 45 homeless people who died last year had some type of mental health diagnosis, ranging from adjustment disorder to schizophrenia. A majority of those people didn't make contact with ADMHS at any point, he said. In addition, the surveys conducted last week through Common Ground Santa Barbara will give the county a clearer picture about how to best help the homeless medically, he said.
Santa Barbara City Councilman Dale Francisco gave an impressive history of mental health treatment in the United States, culminating with the de-institutionalization of the 1950s and '60s.
Legal challenges also exist in helping people who might not necessarily reach out themselves. Under the current law, the Lanterman-Petris-Short Act, patients must present a danger to themselves or others, or be deemed gravely disabled, to be taken in for emergency psychiatric treatment involuntarily.
"That law has hardly been altered at all," said Francisco, who encouraged reform.
In addition to Thursday's event, Survival Santa Barbara will be hosting a benefit concert Sunday featuring Glen Phillips, formerly of Toad the Wet Sprocket, and other musicians as a benefit for the warming centers. The concert begins at 7 p.m. at The Marjorie Luke Theatre, 721 E. Cota St. Tickets are $20 and may be purchased at the door or in advance from the Lobero Theatre Box Office, 33 E. Canon Perdido. Click here for more information.
— Noozhawk staff writer Lara Cooper can be reached atlcooper@noozhawk.com. Follow Noozhawk on Twitter: @noozhawk or@NoozhawkNews. Become a fan of Noozhawk on Facebook.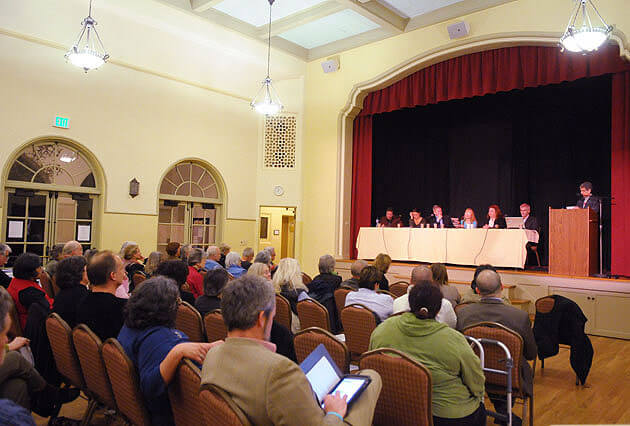 About 100 people gathered Thursday at the Survival Santa Barbara forum held at the Unitarian Society of Santa Barbara. (Lara Cooper / Noozhawk photo)