BY JOANNE CALITRI | NOVEMBER 8, 2022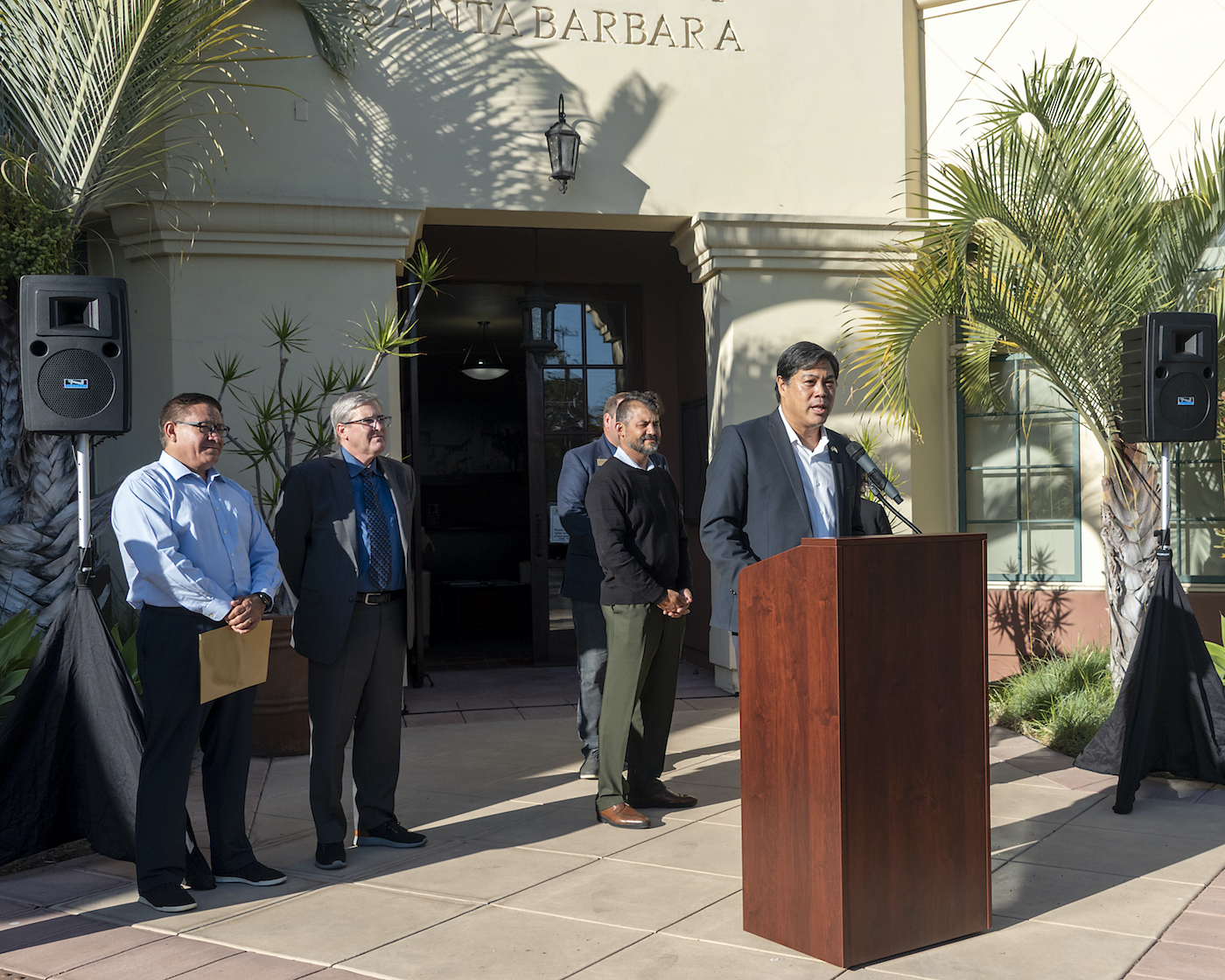 Jason Pu addresses attendees at the press conference on housing in Santa Barbara (photo by Joanne A Calitri)
An impromptu press conference with U.S. Department of Housing & Urban Development (HUD) Region IX Administrator Jason Pu was held on October 26, at the Santa Barbara Housing Authority Offices on Laguna Street. Rounding out the HUD support were state and local politicians Congressman Salud Carbajal, City of Goleta Councilmember James Kyriaco MPA, and First District Supervisor Das Williams. Representing HUD and affiliate organizations working with the issues were Executive Director/CEO of Housing Authority of the City of Santa Barbara Rob Fredericks, Assistant Regional Administrator for Substance Abuse and Mental Health Services Administration (SAMHSA) Hal Zawacki, and Senior Regional Advisor of the U.S. Interagency Council on Homelessness Helene Schneider. Prior to the press conference, Pu was given a tour of local housing units El Carrillo, Johnson Court, Vera Cruz Village, the Gardens on Hope, Dignity Moves, the Super 8 Motel, the Pescadero Lofts, and Hedges House of Hope.
Pu was announced to his HUD position by President Biden on December 29, 2021. He served twice as mayor of the City of San Gabriel, California, is a business attorney, and founded an independent Asian Pacific American Community record label – jd8 Records, LLC. He holds a JD from UCLA and BS in Psychology from Stanford University.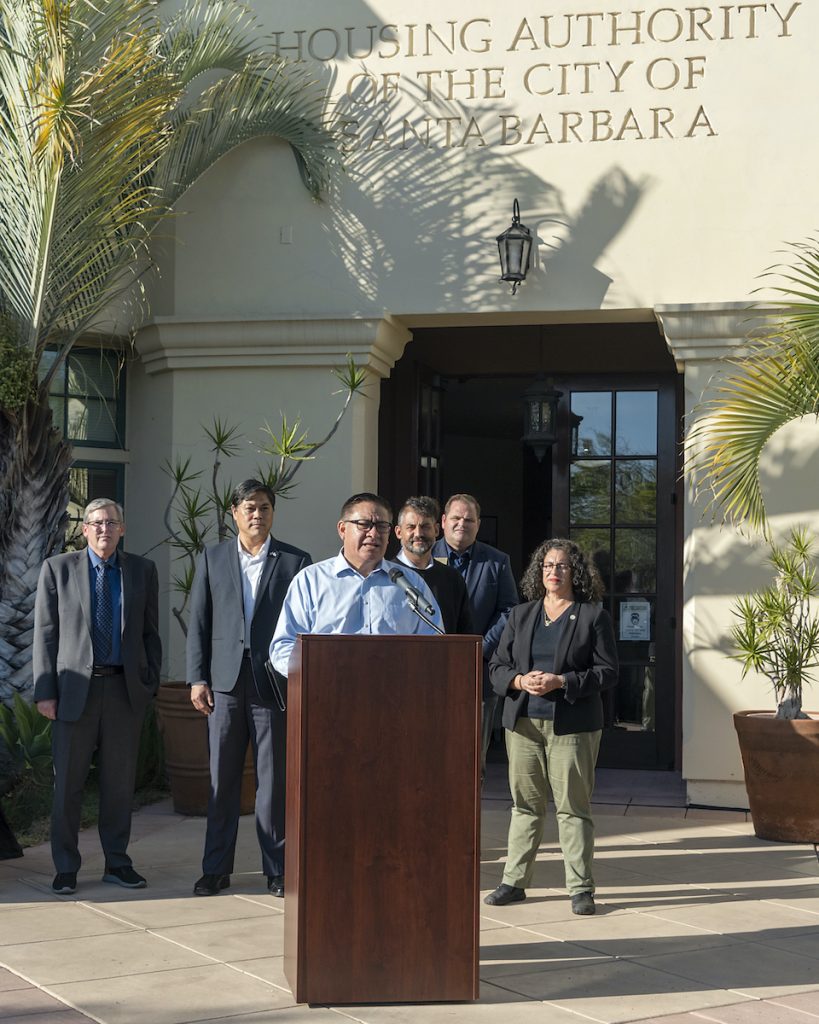 His statement at the press conference was under five minutes as he presented strategic points on housing issues and federal funding. Pu stated, "The FY23 Federal Budget proposes $50 billion in mandatory funding for housing and additional Low-Income Housing Tax Credits. Today, I saw a lot of examples of local housing projects where there is a lot of collaboration to solve homelessness and housing crisis issues. We at the Federal government are standing with you with funding to make those projects happen. Community members may not notice these projects are there because they are beautiful projects anyone would be proud to live in and anybody would be happy to live next to. The projects are a collaboration with the public housing authorities, the City, and County to weave and bring resources together to solve these complex issues. Housing first does not just mean housing only; projects are needed to stabilize individuals and their families so they can be on a better pathway for themselves and the community. Decades of underinvestment in housing and services has certainly created a very steep and tall mountain to climb. I hope that we can continue to work together as we move into a new era where we are establishing a system that did not exist before and one where all levels of government – federal, state, local, and tribal – are aligned." He concluded by thanking all government officials and organizations represented at the press conference.
Carbajal highlighted the Federal Government's close work with state and local housing authorities, "These housing programs from the Federal, State, and local government are most successful when we take a holistic approach to the people needing housing. I'm a product of living in public housing as a kid growing up in Oxnard, my father was a farmer – we needed housing. It is a different model today than what that was. I recognize that the Santa Barbara Housing Authority has modeled the way to achieve affordable housing along with Santa Barbara County Housing Authority which is a major player."
Williams pointed out that the current rental and housing market is chasing people out of the Santa Barbara area, creating a less diverse community, and our carbon emissions is out control due to people having to move and commute to the area for work. Of note is the California Department of Housing and Community Development (HCD) Homekey Grant for Santa Barbara, with $6.9 million of that going to an Isla Vista housing project. Homekey is a California program to purchase and rehabilitate housing, including hotels, motels, vacant apartment buildings, and other properties, and convert them into permanent, long-term housing for people experiencing, or at risk of experiencing, homelessness.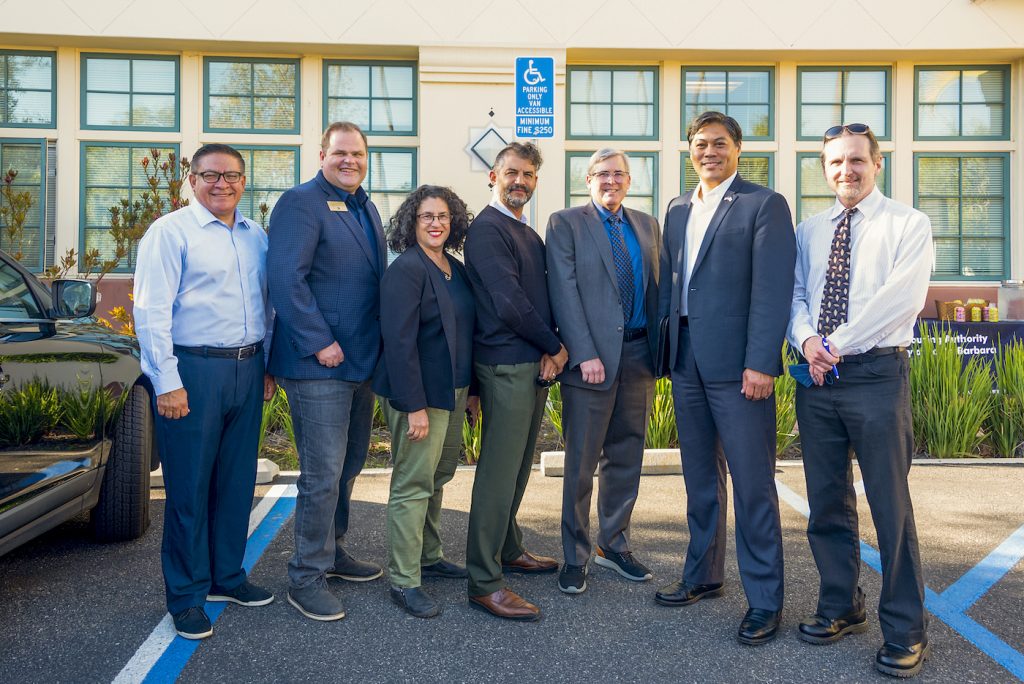 411: hacsb.org
The Housing Authority of the City of Santa Barbara was recently awarded with the Gindroz Award for Excellence in Affordable Housing. In its inaugural year, this award has been given by the Institute of Classical Architecture & Art (ICAA) and recognizes organizations that have demonstrated excellence in the design and implementation of affordable housing in the classical tradition.