Lara Cooper: Reporter Finds Common Ground in Face-to-Face Experience with Homeless
Assigned to assist with community survey, Noozhawk journalist discovers the difficulty of gathering thorough information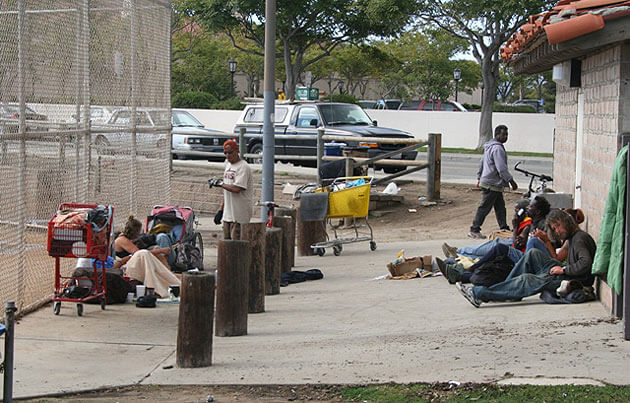 The Cabrillo Ball Field on South Milpas Street is one of Santa Barbara's more popular homeless hangouts. Volunteers with Common Ground Santa Barbara fanned out this week in an attempt to interview area homeless about their circumstances. (Noozhawk file photo)
[Noozhawk's note: Noozhawk assigned reporter Lara Cooper to participate in the Common Ground Santa Barbara survey to get a firsthand look at the census effort as well as a better understanding of challenges the homeless face on a daily basis. She reflects on her experience in the article below.]
When my alarm went off at 3 a.m. Tuesday, I was incredulous. What confused person would set her phone to ring out at such an ungodly hour? In the darkness, I remembered that I had. I had been assigned to take part in a survey that would attempt to get a better handle on Santa Barbara County's homeless issues, and that meant waking up. Early.
A few days earlier, at a packed training session at Earl Warren Showgrounds, Rob Fredericks, deputy executive director and chief administrative officer at theHousing Authority of the City of Santa Barbara and the leader of Common Ground Santa Barbara, told all of the survey volunteers that the best time to catch the homeless was between 4 a.m. and 6 a.m., just as they were waking up for the day. The surveys are all part of a national movement to house 100,000 of the country's most vulnerable homeless, and we'd be asking people we found on the streets a series of medical and social services questions to gauge their needs.
When I arrived at the Louise Lowry Davis Center just before 4 a.m., about 100 other volunteers milled around guzzling coffee. Most of the volunteers were in a state of drowsy stupor, myself included, but there was a sense of excitement as we assembled into our groups.
In addition to being assigned to help administer the surveys, there was another intrigue for me: the chance to unearth some valuable information. As a journalist, there are few things more vital than data. Lest you think we're normal people, most reporters see the value in poring over white papers, spreadsheets and any other juicy wads of information we can get our hands on. We learn early that good numbers will tell your stories for you, and show you what you've been missing.
But ever since I began covering homeless issues for Noozhawk more than two years ago, I haven't found any good numbers. No one seemed to know how many veterans were on the streets, which health issues were a problem, and how effective the city and nonprofit organizations were at moving people off the streets. With no way to chart progress or even the size of the problem, anecdotes were rife.
As I administered my first survey to a newly homeless young man on Tuesday morning, I had a feeling that was about to change. The 15 minutes of questions I peppered him with spanned everything from mental health issues to his last emergency-room visit to where he had been sleeping just hours before. Each volunteer administering the surveys signed a confidentiality agreement during training in order to protect the privacy of those we interviewed. I can't share much about the people we interviewed, but all of them were patient with our questions and seemed grateful to participate.
Our team of four walked the area we had been assigned — a rectangle roughly stretching between Carrillo, De la Vina, Ortega and State streets. During the day, this area of State Street — the 700, 800 and 900 blocks — is dotted with panhandlers. Our area even included the dozen or so benches that officials discussed moving because the panhandling had become such a nuisance to nearby business owners.
The normally busy street was deserted, however, and some of the biggest problem areas, like the benches outside the The Habit, 628 State St., were empty. Ironically, just finding people to survey in this area was difficult. Not surprisingly, the homeless want a safe place to sleep, and they work to stay out of sight. Obviously, finding people who don't want to be found was going to be a challenge.
One of the first places we looked was the underground parking garage at Ralphs, 100 W. Carrillo St., but it was empty. The garage was out of the elements, we thought, and we scoured some of its darker corners. But on closer inspection, it was less than ideal for someone trying to sleep. For one thing, it was brightly lit. A loud metallic hum we hadn't noticed right away also made it a noisy place. We left without seeing anyone.
After two hours of walking, our team surveyed four people. Four other people declined to be surveyed. I was disappointed we weren't able to administer more surveys, but kept reminding myself that even with just our four surveys, it was more information than Santa Barbara County had before.
Between administering the surveys and walking the streets, plenty of policy discussion about the homeless took place among our team. Our team leaders worked with the Uffizi Mission Project, which provides meals and medical care to the homeless at Pershing Park, 100 Castillo St. One leader said she's talked to several women who come to the meals who have been the victims of violence on the streets. Our other leader talked about a lawyer who struggled after his wife died and he eventually lost everything. He now eats meals with the group on Wednesdays in the park.
"You realize it could happen to anyone," the team leader said as we walked.
As our group returned to our starting point to debrief, a pink and blue sunrise hovered over the peaceful city stirring from sleep. Entering the warmth of the Larry Crandell Room at the Davis Center, someone put an Egg McMuffin in my hand, and we began to review the morning's activities. We talked about our surveys, and our leader told us the last two days of canvassing had been so thorough and the volunteer turnout so solid that it was our choice whether to return the next day to conduct surveys again.
I got a sense of this Sunday, when more than 300 volunteers packed the Earl Warren Showgrounds conference center to learn how to administer these surveys. Officials told us that Sunday's effort was the largest volunteer turnout the 100,000 Homes movement had ever seen — anywhere. The Common Ground exercise was a powerful illustration that Santa Barbara does care about its homeless community.
Walking through my front door into my warm house that morning, home seemed more precious. After spending a few hours with people who don't have a home, I'm that much more grateful. I'll also be watching to see how the city, county and nonprofit service providers use the data we've gathered to get people off the streets. Until then, our community should be proud that our volunteer effort surpassed that of cities as large as San Diego. Seeing that effort firsthand was worth the early morning.
Click here for more information on Common Ground Santa Barbara. Follow Common Ground Santa Barbara on Facebook.
— Noozhawk staff writer Lara Cooper can be reached atlcooper@noozhawk.com. Follow Noozhawk on Twitter: @noozhawk or@NoozhawkNews. Become a fan of Noozhawk on Facebook.