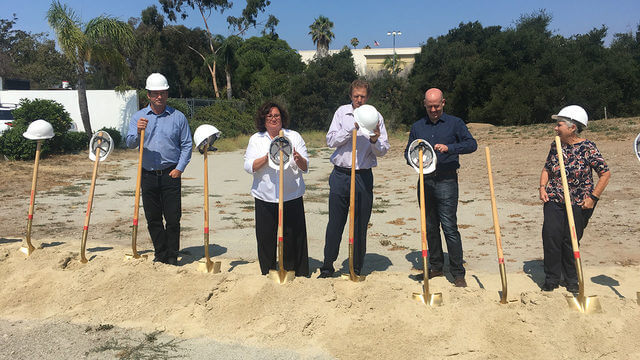 https://www.keyt.com/lifestyle/house-and-home/low-income-senior-housing-breaks-ground-in-santa-barbara/775191138
By: Senerey de los Santos
Posted: Jul 30, 2018 05:02 PM PDT
Updated: Jul 30, 2018 05:02 PM PDT
SANTA BARBARA, Calif. – The Housing Authority of Santa Barbara says that nearly 40% of the county's seniors are struggling economically. To help lower those numbers a new development for frail low-income seniors broke ground on Monday.
"This development will contain 90 total units," said Rob Fredricks, the Housing Authority of Santa Barbara CEO, "Eighty-nine of them are studio units for seniors, and we are going to provide three meals a day, supportive services, housekeeping services all at an affordable cost."
The facility will be known as "The Gardens on Hope". All of the rental units will be subsidized with Project-Based Housing Choice Vouchers, making rent affordable at 30% of the seniors' income.
"We apply for tax credits and we sell those tax credits to an investor and they give us money to build the development so it is a good public-private partnership," said Fredericks.
The Housing Authority purchased the vacant lot on Hope Avenue next to the car dealerships back in April of 2014. Even though the development will not be completed for another year the waiting list continues to grow.
"We have over 900 applicants that are seniors that are on our waiting list that need help with housing cost now, not years down the road but now," said Fredericks.
"Gardens On Hope" was modeled after an already exciting low-income senior facility located on De La Vina. It will be exactly a mirror image of Garden Court because it will provide meals, housekeeping, transportation, activities, 24 hours security," said Chris Tucker, who is the Garden Court Executive Director.
Currently, Garden Court as over 500 seniors on their waiting list. Officials say this number will continue to grow and more housing will be needed.
"In 11 years all baby boomers will be over 65 and a lot of them will be retiring on a fixed income and they are going to need help with affordable housing and we need to take care of folks so they don't end up on the streets or living in their cars," said Fredericks.