City's Housing Authority and 2nd Story Associates Hold 11th Back-to-School Giveaway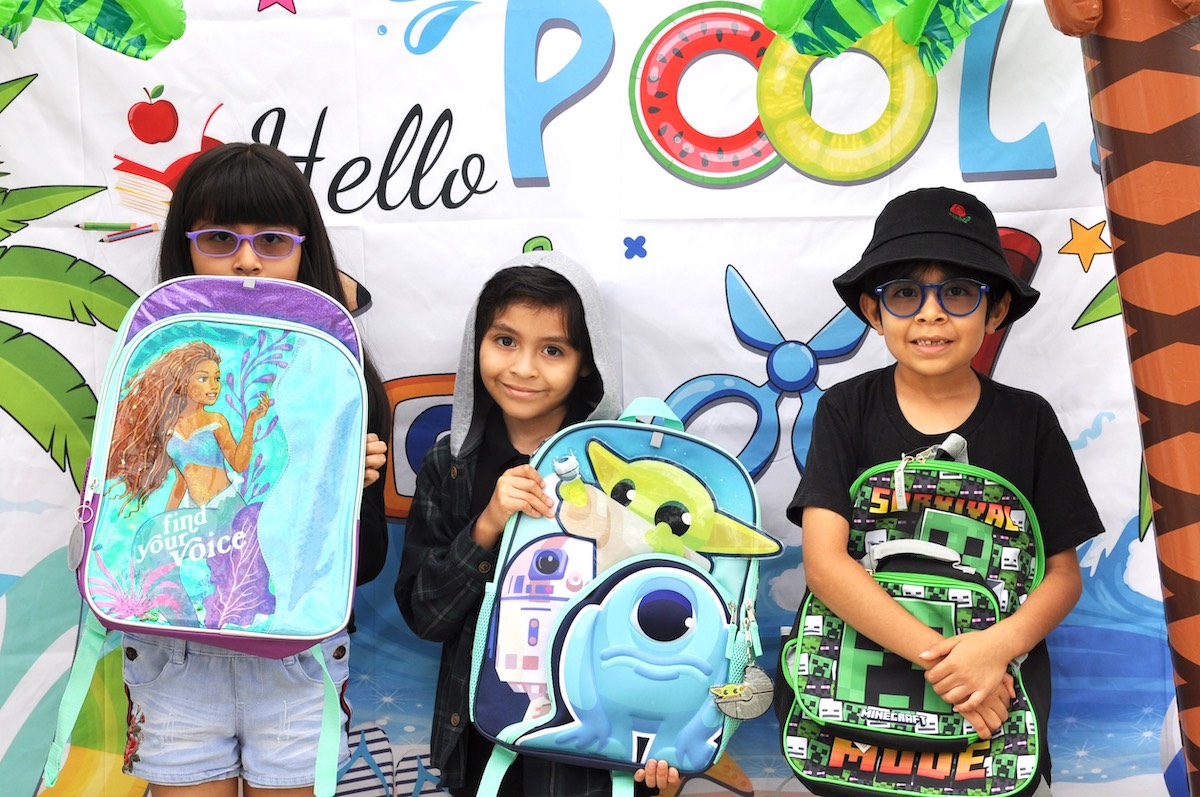 For the 11th year in a row, the Housing Authority of the City of Santa Barbara (HACSB), in partnership with 2nd Story Associates, provided free backpacks and school supplies to low-income youth and families, ahead of the district's first day of school on August 21. Whether prepping for arts and crafts or calculus, 450 students were able to "shop" the fun assortment of backpacks to find their perfect fit for the upcoming year. Music echoed around the island-themed event space in the Presidio Springs housing complex, muffled by the bustling mix of HACSB families.
Rob Fredericks, the executive director and CEO of the Housing Authority, said that Saturday's "Tools for School" event was one of the best they've held so far, featuring a lot of happy faces and, it seemed, a great deal of relief. Fredericks said he "can't believe" how high the prices of supplies have risen in recent years.
Every free superhero-, patchwork-, and cheetah-print backpack alone saved parents around $30-$50 each. Unless parents are willing to hunt for a sale or forgo that new princess backpack, families with children in elementary through high school can expect to spend an average of $890.07 on backpacks and what goes in them this year, according to a National Retail Federation and Prosper Insights & Analytics annual survey.
That new backpack itself will cost parents an average of 10.5 percent more than it did in 2019. Families also reported buying more items this year, with the most money going toward electronics such as laptops.
The survey found that the average spending on back-to-school items is up approximately $25 from last year's record of $864.35, reaching an all-new high. Spending, in total, is expected to reach $41.5 billion, breaking the previous record-high of $37.1 billion in 2021. Back-to-college spending, too, is expected to hit $94 billion, about $20 billion more than last year's record.
Families with the Housing Authority — which provides safe, affordable housing and support services to eligible low-income persons — got their supplies relatively late, compared to the 55 percent of consumers who began purchasing back-to-school items in early July, a number in line with last year's data but up from 44 percent in 2019.
"We want our families to thrive — where they live, through education, and in their jobs. We're more than just housing," Fredericks said. "We're about helping people improve their lives, including our youth, and we want to set them up for having what they need to receive a great education. That includes the basics of a backpack, pencils, pens, paper, notebooks; all that stuff costs a lot of money. Our lower-income residents don't have a lot of extra funds on hand to buy their kids these necessary supplies."
Fredericks said that Housing Authority staff has been able to watch some of the students grow up over the years when they come to receive their school supplies. "I see kids going into high school now who began this tradition when they were going into Pre-K."
The Housing Authority hosts the event in collaboration with multiple participating agencies, including the Family Service Agency, S.B. Unified School District, Partners in Education, Cal-SOAP, Scholarship Foundation of S.B., S.B. Public Library, United Way of S.B. County, Santa Barbara City College, Mission Scholars, Cox Communications, S.B. Neighborhood Clinics, CommUnify, Mental Wellness Center, S.B. Botanic Garden, and YouthWell.