Common Ground Trains Its Eyes for Three-Day Homeless Survey
Hundreds of volunteers turn out to learn how to identify those most in need of housing and help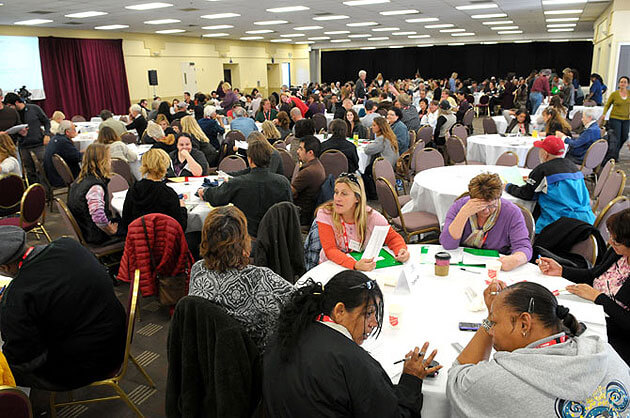 Hundreds of volunteers gathered Sunday at Earl Warren Showgrounds to participate in Common Ground Santa Barbara training for the area's three-day homeless census. (Lara Cooper / Noozhawk photo)
More than 300 people gathered Sunday in support of Santa Barbara County's homeless and the effort to move them off the streets. A late-afternoon training session was packed with volunteers who are fanning out early Monday, Tuesday and Wednesday to gather data with Common Ground Santa Barbara, a coalition working to house some of the area's most vulnerable people.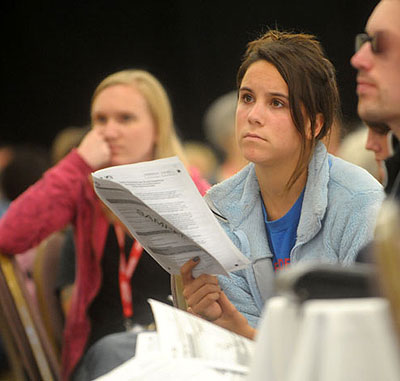 Volunteers listen intently as Rob Fredericks, deputy executive director and chief administrative officer at the Housing Authority of the City of Santa Barbara, explains how to issue surveys to the homeless. (Lara Cooper / Noozhawk photo)
The community showed up in a big way Sunday at Earl Warren Showgrounds, where the training was held in the facility's convention center. The number of volunteers in Santa Barbara County is the largest the movement has seen in any area of the United States, and Sunday's turnout was twice as large as a similar event in San Diego. Speaker after speaker emphasized that every survey is an effort to save a life.
Seven homeless deaths have occurred this year, and Common Ground's goal is to house those who need it most. Specifically, the group is aiming to find housing for 100,000 homeless nationally by July 2013. Local officials are working to see that 100 area homeless are housed by then, said Rob Fredericks, deputy executive director and chief administrative officer at theHousing Authority of the City of Santa Barbara.
Wearing navy shirts with the logo "Got Housing?" on them, volunteers learned how to administer the surveys that will allow them to record factors that put a person at a higher risk of death, such as whether the person is age 60 or older or has had more than three emergency room visits in the previous three months. Volunteers will go out between 4 a.m. and 6 a.m., as the homeless are just waking up for the day. After the data is gathered, it will be put into a Housing and Urban Development Department database. Officials then can more effectively assess who needs housing the most, as a matter of survival.
As an incentive to respond to the surveys, the homeless will be given phone cards and other free items.
During the training, a video was shown that featured Nick Ferarra, a local man who became homeless after an addiction to pain medications forced him to the streets. When asked what homelessness was for him, Ferarra distilled it to one powerful word: suffering.
"This was something I never believed would happen," he said.
After finding housing and employment, Ferarra said he was able to begin to give back to the community and he now is a member of Santa Barbara's Parks and Recreation Commission. He also has served on the Lower Westside Advisory Council.
The mass turnout at Earl Warren Showgrounds was just part of the equation, however, and more people gathered in the North County to learn how to administer the surveys.
"It sounded like a really tangible way to help," said Reed Johnson, a Santa Barbara resident who decided to volunteer to help with the survey three days ago. "It's an opportunity to build policy around data, and not by just guessing."
That lack of data was also touched on by Santa Barbara Mayor Helene Schneider.
"We've been talking about this issue for years," Schneider said. "What we have missed all this time is some really good data.
"If we can be No. 1 in terms of volunteers, just think of what we can do in terms of solving the problem."
Click here for more information on Common Ground Santa Barbara. Follow Common Ground Santa Barbara on Facebook.
— Noozhawk staff writer Lara Cooper can be reached atlcooper@noozhawk.com. Follow Noozhawk on Twitter: @noozhawk or@NoozhawkNews. Become a fan of Noozhawk on Facebook.