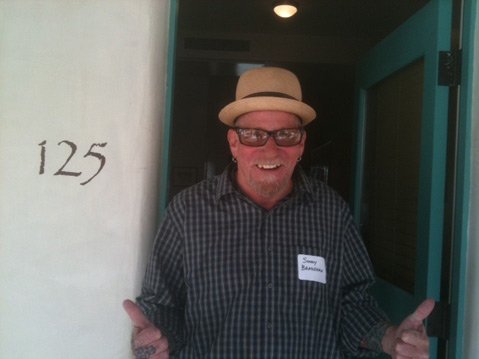 Isabelle Walker
Sonny Bradshaw, a new resident of Artisan Court.
---
Artisan Court Opening Draws Movers, Shakers
Grand Opening Celebrates 56 new units of Affordable Housing
---
Thursday, April 14, 2011
The sun shined on Santa Barbara's low-income housing advocates Wednesday, April 13th. At the grand opening of Artisan Court—the housing authority's newly completed, $17 million, 56-unit complex for low-income workers, formerly homeless people and emancipated foster care youths–scores of city officials, including four Councilmembers, housing commissioners, philanthropists, social service providers and homeless advocates, came out for the speeches, ribbon cutting and food. William Prava, Executive Director of the California Tax Credit Allocation Committee (the agency that awards the coveted tax-credits that finance these projects) flew in from Sacramento and couldn't help remarking: "This is the most beautiful project I've ever seen." To read more, seehomelessinsb.org.