Grace Village Apartments – Under Construction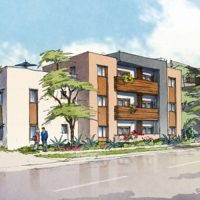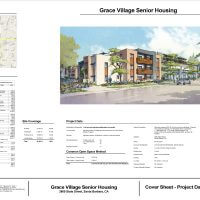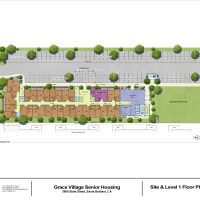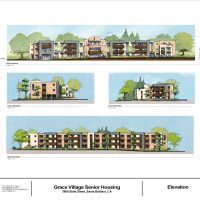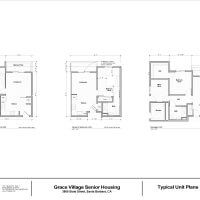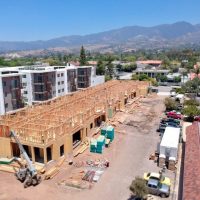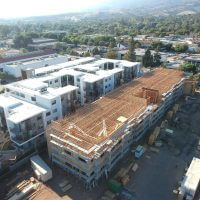 3869 State Street, Santa Barbara, CA
| | |
| --- | --- |
| Owner | Grace Village Apartments, L.P. |
| General Partners | Garden Court, Inc., 2nd Story Associates, Hearthstone Housing Foundation |
| Property Management | CARING Housing Ministries |
| Co-Developers | Housing Authoirty of the City of Santa Barbara, Front Porch Development Company |
| Architect | RRM Design Group |
| Contractor | McGillivray Construction, Inc. |
| Site Area | 1.04 acres |
| Development Profile | 58 1-bedroom/1-bath units with full kitchens, approximately 500 sq. ft. |
NEW! Click here for a video tour of Grace Village under construction!
After 113 years in the Santa Barbara community, Grace Lutheran Church will begin a new chapter with the start of construction of Grace Village, a new housing community for low income seniors.
The A-frame church and land at 3869 State Street was gifted to the Housing Authority of the City of Santa Barbara in December, 2014 for co-development with Front Porch Development Company of the 58-unit affordable housing complex. The concept of Grace Village began as far back as 10 years ago as Grace Lutheran members and California Lutheran Homes began to explore ways to continue its strong service to the Santa Barbara community after decades of declining membership. Grace Lutheran Church held its last service on February 15, 2015.
The community, designed by RRM Design Group, will feature 58 one-bedroom residences and an on-site resident manager, a community room, leasing office, maintenance area, laundry room on each floor and two elevators serving all of the floors with interior corridors and all entries ADA accessible. Financing for the project includes federal tax credits through the California Tax Credit Allocation Committee program, with MUFG Union Bank, N.A., as the construction lender and equity investor, California Community Reinvestment Corp. as the permanent lender, and residual receipt loans from the City of Santa Barbara and Housing Authority of the City of Santa Barbara. Grace Village Apartments, L.P., is carrying out operations for the development and the Housing Authority is acting as the administrative agent for the partnership.
Grace Village is currently under construction with an expected completion date in early 2018.
Vehicle Restriction
Due to its proximity to local amenities including public transportation, medical facilities, and marketplaces, and greatly reduced parking requirements per City approvals, Grace Village Apartments will be incorporating a NO VEHICLE restriction for residents. That is, units will be rented to occupants that do not own, use or possess a vehicle.
Eligibility 
Applicants must be income eligible (applicable income limits below) and not own a vehicle to be considered for residency at Grace Village. In addition to these eligibility requirements, tenant selection will be based on preferences established by the Housing Authority Board of Commissioners as follows:
Date and time of application;
Residency (living or working in the south coast region of Santa Barbara);
Rent burden (households not currently receiving housing assistance);
Veterans of the U.S. Armed Forces.
Amenities
On-site Management
Community Room
Laundry Facilities
Elevators
Community Garden
Income Targeting
| | | |
| --- | --- | --- |
| UNITS | INCOME LIMIT | RENT |
| 6 units | 30% AMI ($17,700) | $474 |
| 12 units | 40% AMI ($23,600) | $632 |
| 26 units | 50% AMI ($29,500) | $790 |
| 13 units | 60% AMI ($35,400) | $948 |
35 units will benefit from a Project-Based Section 8 Contract administered by the Housing Authority of City of Santa Barbara and tenants will pay 30 percent of income towards rent.